---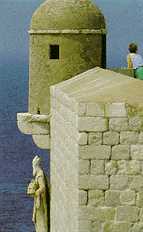 Dalmatian oils (...continued)
To the west of Vis the Island of Jabuka rises like a pyramid. Its black volcanic rocks, 96 m high, fall almost vertically into the depths of the sea. In the immediate vicinity of the island, the compass will deviate a little due to natural magnetism. The sea around the island is rich with fish and lobster, while black lizards - an endemic species - sun themselves on the warm rocks.
Although it is "officially" a peninsula, Peljesac is more like an island. A narrow channel divides it from another island, Korcula. Ston and Mali Ston, two colourful towns, were the most important and best fortified places in the Dubrovnik Republic in their time. The powerful medieval walls of Ston, perfectly preserved, date back to the 14th and 15th centuries. They guarded the land and large salt works. The oysters from the bay of Mali Ston are famous, and so are its wines, Postup and Dingac. Many houses in the town of Orebic once belonged to sea captains and still house antique furniture and opulent tableware of glass, silver and china. The acquired wealth and centuries-long links with East and West brought the fashions of European noblewomen to the town, their costumes created in exquisite fabrics.
It may be true that places and islands differ, but Korcula undoubtedly holds a privileged position among Croatian islands. Here there are perhaps even more legends, tales and monuments than anywhere else. The island has a number of famous towns including Korcula, Lumbarda and Vela Luka. The oldest written monument in Croatia, the "Lumbardska psefizma", in Greek, was found in Lumbarda. According to legend, Korcula was established by the Trojan hero Anthenor in the 12th century BC. The Italian town of Padua also claims him as its founder. Ancient Greek and Roman writers speak of the city of Korkyra Melania, established by Greek colonists from Cnidus, which had, according to the same sources, been minting its own money as early as the 4th century. The Latin version of the name is Corcyra Nigra, Black Corcyra, because of the thick woods on the island.
Korcula is, after Lokrum and Mljet, the third most densely wooded island of Croatia. There is much evidence of a highly-developed social life on Korcula even in the 13th century. The Statute of Korcula, signed in 1214, prohibited the slave trade for the first time in Europe. It also spoke about the order and management of the city. The Statute rules were in force until the arrival of French authorities in 1806. At the end of the 13th century, a battle was fought between the navies of Venice and Genoa in the channel near the city. The famous travel writer, Marco Polo, who was, according to some sources, born in Korcula, was said to be involved.
| | |
| --- | --- |
| Korcula, a town with a regular herringbone street pattern | The people of Korcula were famous stonemasons, shipbuilders and seafarers. They left their mark in stoneworks, sculptures and buildings all over Dalmatia, but they saved their best works for their own city. There are late Gothic and Renaissance buildings from the 15th and 16th centuries, and Baroque examples from the 17th and 18th centuries. It took local builders 150 years to erect the cathedral of St. Marcus, the most valuable building in Korcula. In its long history, the town streets, laid out in a regular herring-bone pattern, have seen many battles. Nowadays, each summer they come to life with the old knight's dance of Moreska, dating from the 15th century. The dance evokes the battles with the Moors and was popular all over the Mediterranean. But today it has only been preserved on the island Korcula. Representing good and evil, the white and black kings fight with their armies for a maiden. Fortunately the white king prevails. In Blato, situated like Rome on seven hills, there is another, equally interesting knights' dance called "kumpanija" (company). It symbolises the struggle for freedom. |
For details and you questions please contact as here
---