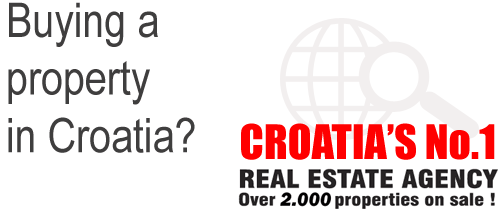 Interested in buying a house on an Croatian island, apartment in a quiet Dalmatian town, commercial property in Dalmatia or land plot for a larger investment? Take a look at our offer of real estate property for sale in Croatia.

Our job is not only to facilitate your contact with the property owner, but also to lead you throughout the whole process of buying, from the first time you visit our web site, till the signature of the contract of acquisition. This includes organized accommodation, rent-a-car and everything else you might require in order to make the purchase of a real estate property in Croatia, swiftly and with ease.

If currently you can't find an adequate property on our web site, feel free to contact us and our real estate agents will search for a property after your specific needs.



If You are looking for an old stone house, a building land plot or similar...


...look no further, since our web site at www.croatia-info.net features over 2.000 properties for sale on Croatian coast and islands. Real estate agency has been in business for 11 years in the area from Istria on north of Adriatic to the well-known city of Dubrovnik on the south of the Croatian coast. We have offices in Split, on the island of Hvar, on the island of Brac and branch office on the island of Korcula will be opened soon. With 20+ employees selling Croatian properties exclusively to foreigners, we are able to find and sell property faster than anyone else in this business.
If You are looking for an investment opportunity, commercial development...


...we list many hotels, villas and large building land plots at www.croatiaproperty.org. These days investing became a topic of interest to most of the media, politicians, and business people. Many foreign investors come stating they want to invest in Croatia. They often encounter bureaucratic obstacles and difficulties when trying to grasp the Croatian legislation that constantly changes and is supplemented by new regulations, the differences in methods of carrying out business, tax system and accounting standards. But without assistance from competent and reliable local consultants this can be a demanding task even if persons in charge to understand all this are adept and adaptable experts who know the details of business problematic. On our web site You can find a lot of excellent investment offers.
If You are looking for an luxurious villa on one of the Croatia islands...


...we will have exclusive offers listed on our web site at www.dalmatianvillas.com soon. A development of superbly designed 250 villas on one of the islands in south Adriatic is on its way and our Agency will have these properties in offer in the near future. Other projects with Mediterranean style villas are also in preparation and our web site Dalmatian Villas will be the one with the most extensive offer of such properties on Croatian coast and islands. Although, majority of such villas are both for personal use, looking at these properties as a good investment is also very common. For investment conscious buyer, rental projection examples are available for some of the projects under development.
If You are looking for a property on island Korcula...


...You can find a lot of properties on the beautiful island Korcula at www.korcula-property.com Korcula Property is dedicated to offer widest range of real estate property on Croatian island of Korcula available. Our aim is to serve all possible buyers of real estate on Croatian coast and to show why island of Korcula should be on top of their list for property location in Croatia. Korcula Property will strive to be at clients service in all possible ways whether they are buyers or sellers of real estate on island Korcula. We are active in all segments of real estate business: houses, land, apartments, business premises, purchase, sale and lease. We perform our duties only very professionally and our lawyers will do their best to assist You in the whole process of purchasing a property on island of Korcula. If you are interested in more detailed information, or you wish to gain better insight, please, do not hesitate to contact us. We guarantee, you'll be thrilled with the natural beauties of Korcula, a birthplace of great adventurer Marco Polo.