The house is situated about 40m from the sea (above a sandy beach). It is surrounded with the garden (800 m2) with orchard and pine trees. On the first floor of the house is situated apartment with four rooms, kitchen and toillet. On the second floor there are four rooms (each with toillet) and kitchen. Besides two kitchen in the house there is also one outdoor kitchen. In front of the house there is a parking lot and barbicue.
This part of the coast is characteristic with numerous long sandy beaches which make it incomparable and unusual. Come and enjoy in this beauty!!!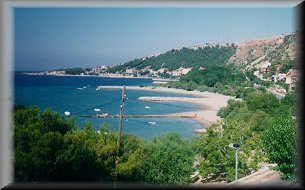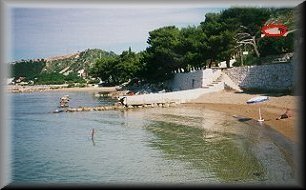 View from the terrace Position of the house
Position of the houses:

House "TICINOVIC"

House "VICKO"
HOUSE "VICKO"


Contact person: Emilija Vicko
Address: 21310 Omis-Duce
Tel.: +385 21 735 018
+385 21 460 244
+385 21 502 558
+385 16 111 091
HOUSE "VICKO"

Capacity

PRICES (per apartment per day)

No. person

11.VII-22.VIII

27.VI-11.VII
22.VIII-12.IX

-27.VI
12.IX-

(groundfloor) APARTMENT
No. of beds
2
80 EURO
60 EURO
50 EURO
1 double(three)-bed room
3
100 EURO
95 EURO
80 EURO
(I floor) ROOMS
No. of rooms
PRICES (per person per day)
2 double(three)-bed rooms with toillet
2
1/2
18 EURO
15 EURO
12 EURO
1/1
19 EURO
17 EURO
14 EURO
| | |
| --- | --- |
| | The house is situated about 100 m from the sea, on the edge of the pine trees wood. In front of the house there is a parking lot and barbicue. On the groundfloor of the house is situated apartment with one room (2-3 beds), kitchen and toillet. On the first floor there are two rooms (each with toillet) and kitchen. In front of the house there is a parking lot and barbicue. |