U prelijepoj uvali pokraj Šibenske Rogoznice, smjestila se Vila Lida, mjesto stvoreno za odmor, daleko od gradske buke, uz kristalno čisto more, toplo mediteransko sunce, ribu i prirodne ljepote Rogozničkog akvatorija....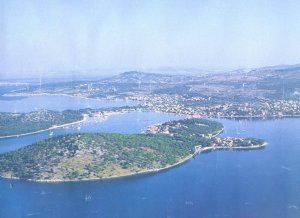 Villa Lida situated in the lovely bay near Šibenska Rogoznica grew into the right place for your holidays. It is far from the city noise with crystal clear sea, warm Mediterranean sun, fish and natural beauties of the Rogoznica district..

Odmorite se u prostranoj vili koja uključuje četiri apartmana (2+1 kreveta) i jedan veliki apartman (4+1 kreveta). Svaki apartman ima TV i zasebne terase...
Vila je smještena drugi red do mora (20 m), te Vam je omogućen slobodan pristup prostranoj plaži. Opremljen je vlastitim parking prostorom, te roštiljom...
Take a break in the spacious villa with four apartmaments (2+1 beds) and one big apartment (4+1 beds). Each apartment has own TV and separated balcony...
The villa is situated near the sea (20 m) and there is a free approach to the vast beach with a private parking lot and grill...