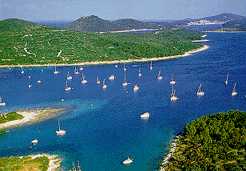 Upper Adriatic water-colours (...continued)
Whether you have come to stay or only on an excursion, the many islands in this area have a lot to offer. The island of Ilovik with its green pines and fragrant flowers has two shops, a post office and a famous tavern, Rozmari, which serves American specialities. It is a reminder of those who left to become dockers, barmen and farmers in America. The houses on Ilovik are well-furnished, but mostly empty, waiting for the emigrants to return some day.
Of the 1,185 islands and reefs strung out along the Adriatic, built from hard rock and a handful of soil, Susak is one of the few which nature built from sand. It has about 20 million cubic metres, which imparts a special aroma to its wine. But that's not the only peculiarity of Susak. The women here wear special mini skirts, as part of the Susak folk costume. And almost their own language. No matter how good your Croatian, you will never be able to understand the local patois completely. The oldest buildings on the island are in the village of Gornje selo: the remains of the 11th century Benedictine monastery and the church of St. Nicholas, the patron saint of the village. Each of these smaller islands - and that includes Koludarac, Unije and others - has a story and customs as unique as its beauty. Few people live here year round and every year numbers decrease. Only in summer do the islands come to life again with the local dialect interspersed with an occasional American word. Those who left in search of wealth or a bride come back each summer. Even the pretty girl in the definitely non-traditional mini skirt, born in New York, can trace her Susak origins. Instead of a husband she has brought - she says - a fiance. But nobody, the neighbours whisper, has seen the ring yet. The new and the old, the traditional and the modern, become indistinguishable.
Three of the four medieval bell towers for which Rab on the island of the same name is famous.

As early as 1889, the city council of Rab, the next island south in the Kvarner archipelago, proclaimed it a sea-side and health resort and established a committee to manage roads, beaches and rooms for guests. Thereby the people of Rab, famous for their hospitality, chose their destiny. The British King Edward VIII stayed on Rab with his American friend Wallis Simpson and swam naked there, thus making a substantial contribution to the popularity of naturist tourism as it is enthusiastically enjoyed today.

Rab is separated from the mainland by Podvelebitski Kanal (the Velebit Channel). Your stay is made more beautiful by the sight of snow on the nearby Velebit Mountains. But don't worry, temperatures on the island rarely fall below zero and the inhabitants have not experienced snow in the last hundred years.
For details and you questions please contact as here
---